Cutting cables – professional cable processing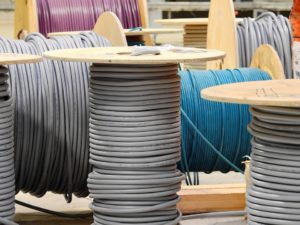 We have been manufacturing all sorts of cables for almost 30 years. Our experience, broad technical expertise and advanced machinery allow us to offer a wider scope of services, including professional cable processing. Cutting cables and their isolation is one of them. This solution is dedicated among others to manufacturers of electric and electronic equipment who seek specific lengths of cables prepared for further stages of production.
Cutting cables – why should you choose us?
We undertake to cut any sorts of cables – even in orders requiring most precise cutting.
We cut and isolate standard, multicore and ribbon cables with IDC, Micro-Match or PicoFlex connectors.
The cutting and other cable processing tasks are done mainly on cables manufactured by us but we would also welcome other forms of cooperation.
We cut cables so that our customers could have ready-to-use products.
We have a vast experience in the cable industry due to which we are able to process untypical and non-standard orders as well.
Cooperation with us guarantees:
comprehensive service – as a cable manufacturer we ensure professional technical consulting and a tailor-made offer for our customers,
that our customers receive products that comply with the technical specifications – due to our advanced cable cutting and processing equipment as well as our experienced and competent staff,
that orders run smoothly and ready cable products are delivered to any destination in Europe.
In order to arrange for the financial and technical terms of our cooperation, you just need to contact us. You can do it by filling in a form available at our website.