Tinning of wires and other processing services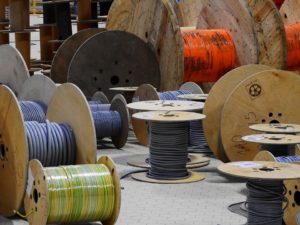 We have been specialising in cables since 1989. Thus, not only we produce cables but we also further process them. Cutting cables is one of the services we offer. The processing can also include the tinning of wires.
Tinning of wires: why should be done?
Copper wires are tinned most of all in order to improve their performance and extend their life cycle. Copper is highly susceptible to oxidation, and thus corrosion. Its exposure to air causes a wire gradually lose its conductive properties and show more and more resistance. Coating it with tin solder eliminates this risk, as a result of which wires preserve their original technical parameters for a long time.
Another reason for tinning of wires may be need for strengthening the cable structure. Coating it with tin reduces wire flexibility and therefore makes it easier to assemble an electronic system or any other type of connector.
Professional tinning of wires – entrust this task to MCI
MCI offers comprehensive services connected with the tinning of all kinds of copper wires. Our company's extensive technological background and broad expertise ensure:
that tinning is done as quick as possible – even large amounts of wires can be coated with tin solder within the most convenient timeframes,
that the best lead-free tin with excellent conductive parameters is used,
that the job is handled with precision – like in case of cable manufacturing, we take care of every detail, due to which cables processed by us have quality that meets our customers' expectations.
If you wish to learn more about the details of our services connected with cable processing and the financial terms and conditions, do not hesitate to contact us.