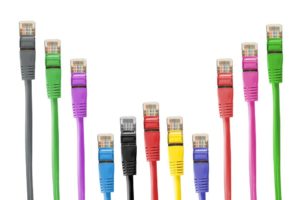 A patch cable or a patch cord is a short cable used for transmitting electrical or optical signal. It's most popular type is the so-called "twisted pair cabling", that is wiring commonly used for establishing computer networks. However, patch cables include a wider variety of products, all of which can be found in MCI offer.
Where patch cables are used?
Patch cables are used a.o. in passive and active appliances connected to LAN, Ethernet, xDSL or telephone networks, so they are commonly used most of all by the ICT sector. They are used for connections both in private houses and in office or industrial premises.
What kind of patch cables do we offer?
MCI offers a full range of patch cables. Our product line includes angled cables, short body cables and standard cables. In our catalogue you can find:
U/UTP (UTP) patch cables, cat. 5e, cat. 6, cat. 6a
F/UTP (FTP) patch cables, cat. i 5e,
S/FTP (SSTP, PiMF) patch cables, cat. 6, PVC and LSOH (LSZH)
U/FTP patch cables (each pair screened separately), cat. 6a, LSOH (LSZH)
S/FTP (SSTP, PiMF) patch cables, cat. 6a, LSOH (LSZH)
crossover and rollover patch cables
patch cables with L110 type connectors
adapter – computer line splitter, splitting a single RJ45 line into two
adapter to combine the Ethernet track and telephone track into a four pair strand
adapter from RJ45 socket into RJ45 cat5e and cat6 socket.
As an experienced cable manufacturer we also offer to our customers a possibility of ordering patch cables according to individualised technical specifications.
What are the benefits of our offer?
A wide variety of patch cables and the possibility of adjusting their parameters to the customer's specification are not the only advantages of the MCI offer. We also guarantee:
best quality of every patch cable from our offer – these cables ensure efficient data transfer without any noises or disruptions,
best transfer parameters,
compliance with the EU quality standards.
Our customers can also expect:
technical consulting on the choice of suitable patch cable – our experts will analyse your needs and advise you on the most suitable model,
efficient order delivery – also in case of large quantities of patch cables,
deliveries to any destination in Europe.
Our price list and detailed technical specification are available with our consultants. We encourage you to cooperate with us!